Tip of the Week: 4 Tips to Jumpstart Productivity with Your Commute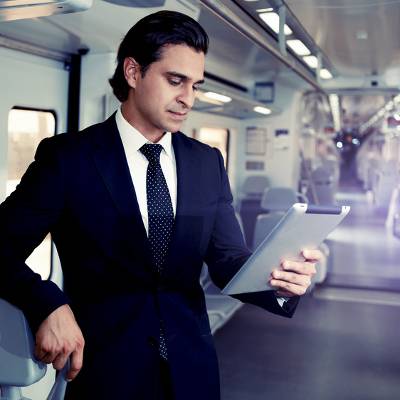 As a business owner, you know there simply are not enough hours in the day to get everything done. However, what some professionals fail to notice is that their morning and afternoon commutes are an entirely untapped market for productivity-boosting activities. By using this time wisely, you can get more done in the office, reducing stress and freeing up your schedule.
According to Time magazine, the average American commute is 25.5 minutes one-way. This means that the average person wastes 51 minutes every day in a car going to-and-from work. You can easily be spending this time doing other, more productive tasks. Obviously, we're not implying that going to work is an unproductive use of your time, but what we are implying is that you can use the commute to get more done. Here are some tips to help you get more done in your daily commute.
Tune into a Podcast or Webinar
You might need to concentrate on the road on your way to work, especially if the weather isn't particularly kind to you, but that doesn't mean that you can't still be productive. Perk your ears up and listen to some material that will improve your business or increase your professional development. Of course, this doesn't really allow you to take notes, but you can make a mental note to return to the webinar at a later date and listen more intently.
Carpooling: Meetings On the Go
You might be accustomed to the solitary drive to work, but carpooling can offer a way to help both you and your employees be more productive, especially if you all live near each other. Additionally, you'll save money on gas, and monthly maintenance on your vehicle will likely be less expensive, too. Carpool meetings are especially helpful if you all work in the same department. You can discuss projects that you might not have time to bring up during the hectic normal operating hours.
Bring a Laptop or Tablet Along (If You're Not Driving)
If you're forced to deal with public transportation, it can be a good time to get some work done or check email while in transit. You might not be able to connect to the WiFi, but you can at least map out what you need to do during the day or write up email drafts in your word processor. Granted, a public transportation route might take longer to reach your destination, but at least you're getting work done before you get to the office, and after you leave.
Create a Daily Routine Roadmap
If you don't feel like carpooling or trying out public transportation (or it simply isn't a choice) you can try your hand at figuring out your plan for the day. This saves you the trouble of spending your morning mapping out how you are going to spend your time, allowing you to jump right into the action the moment you get to the office.
For more tips on how to stay productive both in and out of the office, give Resolve I.T. a call at (978) 993-8038.