Hairballs and WiFi Data are What the Cat Dragged In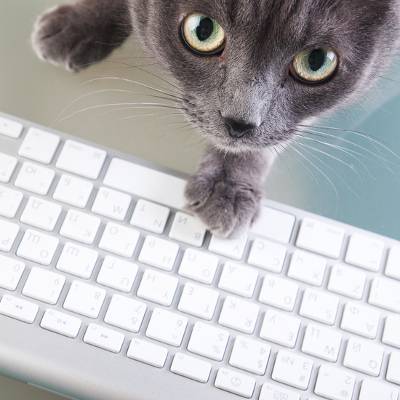 For Washington D.C. residents, there's a dubious threat looming in their backyards putting their personal data at risk. It's Coco, a Siamese cat wearing a high-tech collar designed for hacking WiFi networks. Have you taken the proper security measures to protect your sensitive information from feline foes like Coco?
Actually, this cat isn't a real danger to anybody. In fact, you're more at risk of getting fleas from the neighborhood strays than you are of getting hacked by them …or at least that's what the cats want us to think. In the case of Coco, this wasn't an act of sabotage (or catotage) from the feline uprising, but rather, it's an experiment in network security by Gene Bransfield, an experiment Gene humorously calls "WarKitteh."
The collar worn by Coco was outfitted with firmware, a WiFi card, an SD memory card, and a GPS module. Coco was then allowed to roam the neighborhood and he encountered a variety of different WiFi networks. Upon Coco's return, Gene was provided with data containing the names and locations of area WiFi networks, along with the networks' security settings–plus a dead bird.
The threat posed by having poor WiFi security is very real. WarKitteh can obtain important information, like whether a network is using WPA encryption or WEP keys for its security settings. WEP is an older form of WiFi security that an amateur hacker can access, and much to Gene's surprise, WarKitteh yielded him with the names and locations of several WiFi networks in his neighborhood using the outdated WEP security. Equally surprising was the fact that one-third of the WiFi networks from the WarKitteh used WEP.
While it's not likely that Coco will be showing up in your backyard, there's a good chance that a hacker could pull off the same feat. In fact, it's a common practice for hackers to harvest WiFi network information by simply driving past homes in vehicles equipped with the same data collection technology.
After the data is crunched, hackers can then breach WiFi networks by bypassing WEP security, and then use the IP addresses and for nefarious purposes. In fact, there are several stories where this happens and SWAT teams follow the connection to a hacked household, storm the perimeter, and subdue the residents, only to later discover that the innocent party had their WiFi hacked. This is exactly how the cats plan on turning us against each other.
Having strong WiFi security for your business is important. A hacker that can penetrate your network via WiFi can do a lot of damage. Resolve I.T. can protect your business by assessing the security of your company's network, and equipping you with an enterprise-level security solution that not even the cleverest cat can hack. Call us today at (978) 993-8038 to cat-proof your company's network!