Grading the New iPhone 6 and 6+ On a Curve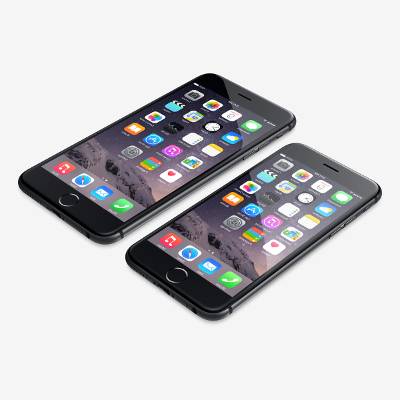 The Apple iPhone 6 and 6+ are here! Are you enough of an Apple fan to have waited in line for hours to get your very own? To date, the new iPhone is so popular that it's on backorder and difficult to get a hold of. Is the latest iPhone worth the hype? Let's take a look at the specs and find out.
Increased Size and Performance
Apple's newest iPhone models are bigger than ever. This move strays from Apple's previous strategy of keeping its iPhones a relatively-standard size. Over the past ten fiscal quarters, other device manufacturers like Samsung have been beating Apple with its larger and more feature-rich devices, causing Apple to finally admit, "Bigger is better."
The increase in size is seen most dramatically with the new iPhone 6+'s 5.5″ display. This is a notable increase compared to the 4.7″ display found with the iPhone 6. Each new iPhone device boasts of clear displays. The iPhone 6 provides users a pixel density of 326 (the same as the iPhone 5S) and the 6+ claims a 401 ppi.
The new iPhones utilize iOS 8 which integrates several different communications applications by Apple. The latest iOS provides users with enhanced photo and video messaging options and a more user-friendly interface.
Not Everyone is Gushing Over the New iPhones
Overall, the new iPhones have been well received and can be seen as yet another success for Apple. The biggest objections to the new iPhones have come from consumer groups claiming that the iPhone 6+ bends when more than 70 pounds of pressure is applied–so make sure that you don't sit on it.
Additionally, Android fans have been mocking the new iPhone, claiming that Apple's upgrades and features have been available on Android devices since 2012. Criticisms like these are new to Apple. Traditionally, Apple is known throughout the industry as setting trends and making well-built products, not the other way around.
What makes the iPhone 6 and 6+ such an interesting release by Apple is that, besides a few new software features and a larger 6+ model, it doesn't offer consumers with a significant product upgrade like one would expect with the release of a new iPhone. However, the lack of new and significant features haven't caused the phone to be a flop. In fact, more than 20 million people have bought the new iPhones and demand is still high. Therefore, Apple must be doing something right.
What are your thoughts about the new iPhones? Is bigger better, or are you bored with the lack of any significant upgrades? Share with us your thoughts in the comments.